Today's update will be very quick, since I have to get back to Book 4 of the Jared McKean series. I'm trying to finish it up this week so I can send it to the ever supportive and blessedly patient Marty and Judith Shepard of The Permanent Press. The book is called A Taste of Blood and Ashes and is about the soring controversy in the Tennessee Walking Horse Industry.
Cover artist Lon Kirschner did an incredible job on the cover.Interview with Lon Kirschneran interview with him. I didn't think he could possibly come up with anything I'd love as much as the one he did for River of Glass, but somehow he did. Is this not beautiful?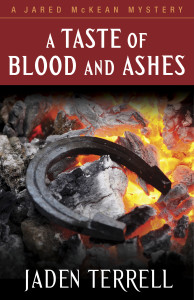 Off to work on the book some more. Wish me luck!