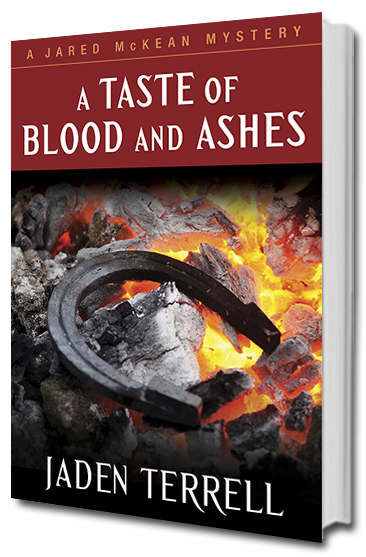 Book 4 of the Jared McKean Mysteries
When Nashville PI and horse whisperer Jared McKean is hired to investigate a suspicious barn fire, he finds evidence of soring, the practice of using painful shoeing or caustic chemicals to affect the gait of a Tennessee Walking Horse. But the owners, Zane and Carlin Underwood, are known anti-soring activists. Carlin's distress seems genuine, and Zane is confined to a wheelchair, paralyzed from the chest down during an attack by a frenzied stallion. Jared believes someone else is behind the arson.
Knowing the arsonist is almost certainly someone in community of those who breed and show Walking Horses, Jared and his new assistant, his half-sister Khanh, attend a local horse show in hopes of flushing out the culprit. There are suspects aplenty, including a groom on the run from a powerful cartel, a modern day robber baron, and a beautiful gold-digger whose dreams are filled with fire.
Secrets pile on top of secrets, and as Zane's memories of the events leading to his accident begin to return, the situation becomes deadly. Jared and Khanh find themselves in the crosshairs of a killer who will do anything to keep the past in the past.
Read An Excerpt
Available from:
Amazon
Barnes & Noble
Parnassus Books
---
WHAT REVIEWERS ARE SAYING ABOUT A TASTE OF BLOOD AND ASHES
---
"A suspicious fire that claims two of trainer Carlin Underwood's fourteen horses opens the gate to a long list of felonies past and present. Even after rescuing most of her stock, her barn is a total loss, and she's more certain than ever that someone's got it in for her. When investigator Jared McKean asks who, she's quick to answer: one of the Big Lick crowd whose practice of soring horses deliberately burning or disfiguring them to produce an artificially high-stepping gait she's long fought. Jared probes the Big Lick crowd, and the pattern that emerges reveals a lot of people who've accused the Big Lick have died prematurely. After a tense prologue, Jaden Terrell's fourth mystery settles into a relaxed rhythm that allows all the complications you'd want from a 40-year-old conspiracy without ever breaking a sweat." — Kirkus Reviews
"Sorting out an insurance claim after a barn fire, McKean finds bones that were buried long before the blaze. The owners, Zane and Carlin Underwood, have been at the center of controversy for years. Carlin has called out several of her neighbors for the cruel techniques they use to train and show their Tennessee walking horses. McKean and his half-sister, Khanh, investigate the high-stakes world of horse breeding and find that in a world where looks and lineage are everything, not everything is as it appears. Another entertaining entry in a consistently solid series." — Booklist
"Author Jaden Terrell has written about Jared McKean before, and one of the powerful strengths of this series is the way details of past mysteries weave so naturally into the present. Characters grow and change convincingly, but each story stands alone as an intriguing, well-wrought mystery with evocative setting and great characters. A Taste of Blood and Ashes allows these characters to build on what went before, but entices new readers equally. It's a well-woven chapter in a saga of uncertain knowledge, intense relationships, and changing lives. Jared's unexpected side-kick becomes a wonderful character in her own right as this story progresses; and balancing relationships against danger and risk might prove as painful for these investigators as the training of a horse to a winning gait. There are ethical gaits and ethical questions hidden in this mystery, creating a vision of beauty and pain that leaves behind a taste of the truth in between." — Sheila's Reviews
"The world of show horses–all breeds of show horses–is often filled with cruelty and greed. Jaden Terrell explores one aspect of that world and reveals the seamy underside. This book was hard to put down, even when I had my own horses to feed and care for. Jaden is a terrific writer who keeps the pace relentless and the characters well-developed." — Carolyn Haines, author of the Sarah Booth Delaney mysteries