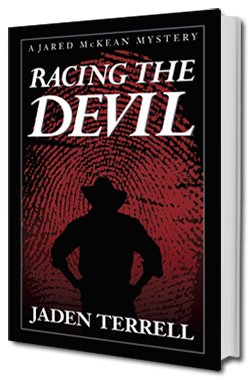 Book 1 of the Jared McKean Mysteries

Nashville Private Investigator Jared McKean has a son with Down Syndrome, a best friend with AIDS, an ex-wife he can't seem to fall out of love with, and a weakness for women in jeopardy–until one frames him for murder.
His DNA and fingerprints are found at the murder scene. His voice is on the victim's answering machine. A man of his height and build was seen leaving the scene of the crime, and the victim was killed by a bullet from his gun. To further complicate matters, his teen-age nephew has just come out of the closet and run away to join a dangerous fringe of the Goth subculture. Now Jared must find a way to hold his family together, clear his name, and solve a case that could cost him his life.
Read An Excerpt
Available from:
Amazon
Barnes & Noble
Independent Bookstores
---
WHAT REVIEWERS ARE SAYING ABOUT RACING THE DEVIL
---
"It sounds like a nightmare, but it happens to Nashville PI Jared McKean: he wakes up from a drugged sleep and learns he's the prime suspect in a woman's murder. Now he must clear his name, and thankfully, a few people still believe in him. Once he is released, Jared discovers that he is being targeted because of a child abuse case he worked on when he was still a cop. Vengeance runs deep, and some folks won't stop until they believe all voices have been silenced. During all this chaos, Jared makes time for his unique, cobbled-together family: a gay roommate with AIDS, a young son with Down syndrome, a teen nephew struggling with his identity—and that's just for openers. VERDICT This character-driven PI debut is intriguing because of the protagonist's complicated family. Their presence is important to the story line and makes for a memorable read. Watch for a sequel soon." — Library Journal
"When Jared McKean, a Nashville cop turned private eye, meets a woman in a bar, his immediate thought is that she needs protection: her bruises are clear evidence of an abusive relationship. When the woman takes him up on his offer and then suggests they seal the deal in a motel room, Jared—still hurting from a busted marriage—puts his better judgment aside. Later, he wishes he hadn't. When he awakens, he finds he's wanted for murder, and he knows two things: he didn't kill the victim—didn't even know her—and the woman from the bar set him up. This all happens within the first 30 or so pages; the remainder of the book is devoted to Jared's increasingly desperate attempts to extricate himself from the frame-up. It's a smart story, well constructed and well told. Jared is a solidly designed lead character, and, given that the novel is billed as "a Jared McKean mystery," it seems likely the author intends the private eye to anchor a series. Not a bad idea, if subsequent novels can keep this one's nice balance of character and story." — David Pitt, Booklist
"Terrell's promising debut introduces Nashville PI Jared McKean, who finds himself caught in an almost perfect frame for murder. A day or two after the theft of Jared's pickup truck, his old partner in Metro Homicide, Frank Campanella, informs him that all the evidence suggests that he killed Amy Hartwell, a woman he's never met, in a motel room. Jared's fingerprints are at the crime scene; the victim was shot with his gun—and kiddie-porn photos of her daughter are stashed under the seat of his pickup truck. While Jared strives to prove his innocence, he also fulfills his responsibilities to a maimed horse; his gay, AIDS-positive best friend in need of reassurance; his rebellious goth nephew; and his emotionally conflicted ex-wife and her new family. Jared comes across convincingly as a savvy and sympathetic . . . urban detective who, despite his own difficulties, is ever ready and able to defend people or animals in trouble." — Publishers Weekly
"Racing the Devil by Jaden Terrell is a compelling story you know you'd like to slow down and savour, but there's no time–you must read on. Forget laundry and gardening; once you begin the story, your afternoon is done for. An ex-Nashville cop turned detective, Jared McKean, the protagonist, is many things we'd like to be vicariously: noble, chivalrous, attractive, and sexually conscious in a (mostly) subtle, provocative way. Written in first person, we hear his thoughts, unspoken wishes and reactions. This is the real stunner in Racing the Devil: Jared's voice. He has an attractive humility, with touches of (possibly) self-deprecating humour—the kind of voice which I associate with the best books I have read . . . Days later, Jared is still with me. An excellent adventure." — Theresa de Valence, Reviews by T de V
"Racing the Devil is a fast ride through modern-day Nashville. Terrell's got a real ear for dialog, the characters are compelling, and the plot nicely twisted. What a terrific start for a talented new writer–I recommend it highly." — Sallie Bissell, critically acclaimed author of In the Forest of Harm
"This is a first-rate PI novel that opens with one of the best-constructed frame-ups I ever read — positioning the hero, ex-cop Jared McKean, dead center for a first-degree murder charge — and just gets better as it goes along. When even his former friends on the police force doubt his innocence, McKean finds himself in a three-hundred-sixty-degree nightmare, one that (even to a second-guessing reader like me) seems to have no way out. The setting is Nashville, but it's a real insider's Nashville, as far from Music Row as it's possible to get. Written in spare, note-perfect prose, with a knockout plot and characters who don't go away when you close the cover, this is a terrific book. I hope there's going to be a lot more of Jared McKean."  — Timothy Hallinan, author of the Poke Rafferty Bangkok mysteries A Nail Through the Heart, The Fourth Watcher, Breathing Water, and The Queen of Patpong.
"Racing the Devil is an exciting, well-written mystery full of vivid imagery. The descriptions of Nashville locations give you the feel of being there. And despite his many faults, Jared McKean strikes you as a basically decent guy you'll want to hear more of in future books. Highly recommended …" — Chester D. Campbell, author of the Greg McKenzie mysteries (Secret of the Scroll, Designed to Kill, Deadly Illusions, The Marathon Murders, A Sporting Murder) and the Sid Chance mysteries (The Surest Poison, The Good, The Bad, and the Murderous)
"I read Racing the Devil in two evenings—kept me up past midnight. I was hooked from the first page to the last page and the ending was most satisfactory—a fun read [with] a lot of good twists and turns. Wow. I know we don't  have to live the scenes to write them—God help romance writers if we did—but [Terrell's] knowledge and command of the language of the seamier side… was totally real and added much to the story." — BJ Mountford, author of the Shackelford Island Mysteries
---
WHAT READERS ARE SAYING ABOUT RACING THE DEVIL
---
Spend the summer Racing the Devil!
"[Terrell's] skillful prose, extraordinary and colorful character development, inexplicable sensitivity to issues such as mental and physical challenges, gentle humor and literary finesse are astounding…This novel maintains a rapid, spellbinding pace and leaves the reader wanting more. Now. Until then, pour a frosty brew, slather on the sun screen, stretch out under a shady tree and prepare to be scorched as you spend the summer Racing the Devil!!" — Janet Garey, Madison, Tennessee
A Wonderful page-turner!
"I found Racing the Devil to be a wonderful suspense novel in the vein of good old fashion murder mystery whodunnits that kept me guessing right up to the last page. The author has skillfully crafted characters that are interesting and believable, and placed them into a plot that twists and turns with seemingly no way out. I find it refreshing that the author has created something new and exciting in a genre that has been mined of innovation to exhaustion. Racing the Devil is a thrilling read that will leave you wanting more." — Craig Combs, Atlanta, Georgia
A Must Read
"This book grabs you right from the beginning, takes you on a suspenseful ride full of twists and turns, and leaves you wanting more at the end.
The story is fascinating and almost impossible to stop reading. The characters are deep and rich and very believable. The book itself is extremely well written and full of detail and ambiance.
Overall, this is an excellent book that will appeal to a wide variety of readers. I think it is a must read and can't wait for the next one." — Brett Bias, Nashville, Tennessee
Great Book, can't wait for the next one!
"I found the book an easy read but captivating and suspenseful. The characters are believable and complicated just like real people. The author even includes modern social issues that will have us re-examining our positions on things like homosexuality and family values. A must read!" — mussadiq77, Baltimore, Maryland
This Book Rocks!
"I liked this book so much I read it twice. Racing the Devil rocks!" — Bill Laffer, Nashville, Tennessee