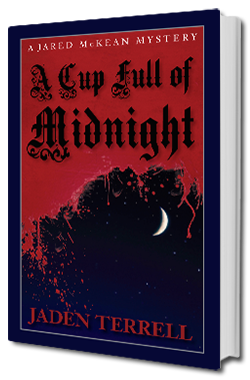 Book 2 of the Jared McKean Mysteries
At thirty-six, private detective Jared McKean is coming to terms with his unjust dismissal from the Nashville murder squad and an unwanted divorce from a woman he still loves. Jared is a natural horseman and horse rescuer whose son has Down syndrome, whose best friend has AIDS, and whose teenaged nephew, Josh, has fallen under the influence of a dangerous fringe of the Goth subculture.
When the fringe group's leader—a mind-manipulating sociopath who considers himself a vampire—is found butchered and posed across a pentagram, Josh is the number one suspect. Jared will need all his skills as a private investigator and former homicide detective to match wits with the most terrifying killer he has ever seen. When he learns that his nephew is next on the killer's list, Jared will risk his reputation, his family, and his life in a desperate attempt to save the boy he loves like a son.
Read An Excerpt
Available from:
Amazon
Barnes & Noble
Independent Bookstores
---
WHAT REVIEWERS ARE SAYING ABOUT A CUP FULL OF MIDNIGHT
---
"If there's anything Terrell can't do, you wouldn't know it from reading A Cup Full of Midnight.  This is a riveting, deeply felt novel with a terrific mystery at its core." – Timothy Hallinan, Edgar nominee and author of the critically acclaimed Poke Rafferty Bangkok thrillers A Nail Through the Heart, The Fourth Watcher, Breathing Water, and The Queen of Patpong
"Jared McKean, the Nashville cop-turned-private-eye, returns for a second helping of action and intrigue . . . In the first McKean mystery, the excellent Racing the Devil (2012), Jared was a suspect in a homicide; here, it's his nephew. You'd think this might lead to a case of the rerun blahs, but, despite the thematic similarity to its predecessor, the book works very well. Terrell gives Jared plenty of fresh detecting to do, and he includes a meaty subplot involving the manipulative nature of cults (especially on impressionable young minds). A worthy successor to the author s top-notch debut. Fans of mainstream PI novels definitely need to check out Terrell. – Booklist, August 2012
"Author Terrell does not just tell a story, she plays with language to permit the story to take on its own life as you read. And her characters never lose their humanity, even as they struggle with pain that is almost more than an individual can bear." – Suspense Magazine
"Saddle up for PI Jared McKean's welcome second appearance. While successfully juggling a complex cast with numerous minidramas, Terrell never loses focus on a case about troubled teens, which [he] writes with sympathy" – Library Journal
"If you didn't read Jaden Terrell's Racing the Devil you missed a really good mystery novel. But don't worry–you don't have to have read it to be wholly enthralled and wholly satisfied by this second Jared McKean mystery. A Cup Full of Midnight is complete on its own, an intellectually thrilling mystery, psychologically scary and real, filled with memorable real-world characters and the sort of social commentary that comes from genuine conversation and honest concern. Jared McKean is a wounded protagonist with the strength to fight foes, the honesty to know when he's beaten and the determination to get up and carry on. He's frequently beaten but never down and out, and his concern for client, family, stranger and friend crosses boundaries of prejudice and bends the law with love . . . These characters could live next door. These wounds could be worn by neighbors anywhere. But a story this powerful is hard to find, a mystery this intriguing, or a narrator as brutally honest and generous and kind. I'm lucky to have read both novels of this series. I'm eagerly awaiting more. – Sheila Deeth, Cafe Libre
"Mystery, murder, love, sex, wannabe vampires, private eyes, and passion…and then it gets really good. This tale of mystery, undying love, and terror is definitely not for the emotionally weak. This story will tear out your heart…literally." – Lee Lofland, author of Police Procedure and Investigation, A Guide for Writers
"If Taylor Jackson ever needed a private investigator, she would call Jared McKean." – J.T. Ellison, New York Times bestselling author of the Taylor Jackson and Samantha Owen thrillers