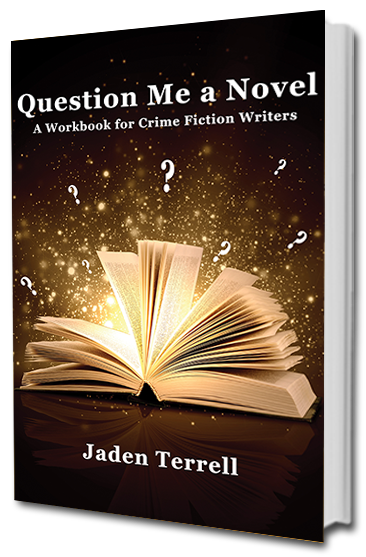 Question Me a Novel
The "Question Me a Novel" workbook is designed for writers who:
want to write a novel but don't know where to start
have started a novel but don't know how to finish
have written one or more novels that feel flat and lacking in depth
Based on the premise that you are the expert on your novel, the system leads you through a series of open-ended, non-prescriptive questions and exercises that can take you all the way from the seed of an idea to a finished book, or move you through a "stuck" spot in your story. Whatever your genre, whether you're a pantser or a plotter, this nuts & bolts workbook will give you practical, step-by-step strategies to take you from the initial idea to a completed first draft.
You'll learn how to:
create a strong foundation for your novel
create memorable characters and a compelling plot
add depth and complexity
use background and sensory details to bring the world of your story to life
and much more
The workbook can be used alone or as a companion to the Question Me a Novel workshop.
Here's what some Question Me a Novel workshop participants have to say:
"I'm at Starbucks with no writer's block, thanks to you! I have a plan now! Sorry about all the exclamation points but I had been stuck for months and it's so nice to be unstuck!" – Jan Little 
"Yesterday's workshop was so good. Every section was helpful….I attended [some other writing workshops] a few years ago, and they were perfectly fine, but compared to yours they're quite sketchy. My point is not to criticize them but to point out that you offer what fiction writers really need." – Lynette Ingram
Jaden Terrell is a Shamus Award finalist and the internationally published author of the Nashville-based Jared McKean mysteries. She is a contributor to the Killer Nashville Noir anthology and to Now Write! Mysteries, a collection of writing exercises published by Tarcher/Penguin for writers of crime fiction. A recipient of the 2009 Magnolia Award for service to the Southeastern Chapter of Mystery Writers of America, Terrell is a former special education teacher with thirty years of experience as a teacher and trainer. She is a writing coach, workshop leader, and compassionate editor. Contact the author at: http://www.jadenterrell.com.
Available from:
Releases Dec 15 – Presale Dec 11
---