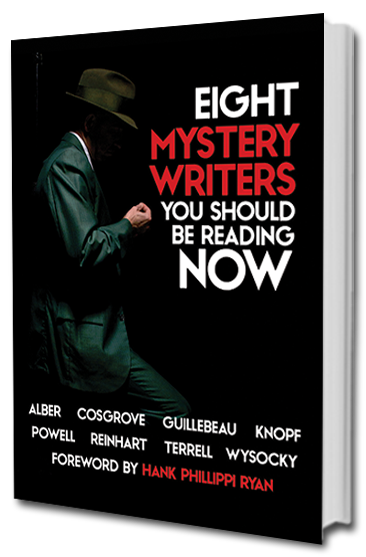 If you don't know who these mystery writers are, you're missing out.
Now you can get it free when you subscribe to my email list.
My part in this book began on Halloween weekend at Killer Nashville 2015, when Michael Guillebeau asked me to be a part of a project he was working on—a sampler of eight mystery writers he admired, each of whom would contribute a short story, an interview, and a sample chapter from one of their novels.
To say I was honored would be an understatement. I'd read Michael's work, and the guy has some serious writing chops. I mean, the guy can WRITE. Haven't read him yet? Hie thee to his website and check out his novels right now. Seriously, I'll wait.
Of course I said yes. And boy, am I glad I did. The other writers Michael lined up are all topnotch, and all a delight to work with. To top it off, bestselling author (and fabulous-in-every-way) Hank Phillippi Ryan came on board to write the introduction. If you don't already know their work, I hope you'll find enough in these pages to make you want to learn more.
The book isn't a five-course meal. It's more like the appetizer sampler you'd get at a good restaurant. Eight very different flavors. The hope is that you'll find at least a few you love.
You can get a PDF or mobi copy of it for free by subscribing to my newsletter. The signup form is in the upper right corner of this page. 
Since it would be hard to top Michael's descriptions of the contributors, I'll let him introduce us:
Lisa Alber – Mystery with a smattering of psychological suspense and tons of atmosphere. Beautifully written, complex stories set in the Irish countryside. Reminiscent of Erin Hart, Julia Spencer-Fleming, and Susan Hill. Rosebud Award and Pushcart Prize Nominee.
Kathleen Cosgrove – Florida weird with a middle-aged woman returning home. Kick-ass funny.
Michael Guillebeau – Broken war hero has to navigate the oddballs and save the girl to get back to the bar he's been hiding in. Reminiscent of Elmore Leonard and Carl Hiaasen. Silver Falchion Finalist, and Library Journal Mystery Debut of the Month.
Chris Knopf – Hardboiled in the Hamptons. Ex-boxer Sam Acquillo is a noir descendent of Travis McGee and Spencer, and one of my favorite characters. Nero award winner. Chris was featured on my Crimereaders.com blog here.
Jessie Bishop Powell – Cozy noir mysteries that embrace the genre's extremes. In The Marriage at the Rue Morgue, police suspect an orangutan of murder. Primatologists Noel Rue and Lance Lakeland have to save the ape and still find time to get married. Sounds light, but Powell's stuff is as intense as it is funny.
Larissa Reinhart – If you like Janet Evanovich's Stephanie Plum, you need to read Reinhart's Cherry Tucker. A damaged artist with twice the depth, twice the funny of Plum and set in small-town Georgia. I dare you to put this down. Daphne du Maurier Finalist
Jaden Terrell – A "hardboiled hero with a soft-boiled heart," Nashville PI Jared McKean has enough emotional issues to carry a book all by himself, and then Terrell throws him into big issues like human trafficking. Shamus Award Finalist.
Lisa Wysocky – Multiple awards for Lisa's books about a horse trainer with a smart horse who helps her solve crimes. One of the most realistic and loving use of animals in mystery. Winner of American Horse Publication Awards, and the National Indie Excellence Awards.
"It's easy to find a book. It's hard to find the book, that new author, who sets your life on fire.  That's why we put this collection together." – Michael Guillebeau, author of Josh Whoever, Silver Falchion finalist and Library Journal Mystery Debut of the Month
Also available from:
Amazon
---