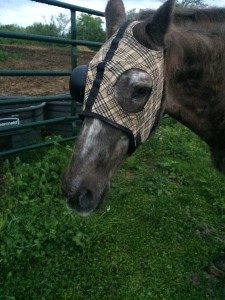 I'm working like a fiend to get the fourth book in the Jared McKean series, A Taste of Blood and Ashes, finished and submitted by the end of the month, while getting ready for the Killer Nashville conference. It's a busy time, but I wanted to take a minute to stop by here and share this photo of Pete in his eye patch. Since his name is Peter Pan, I think there's a little irony in the fact that he looks a bit like a pirate here (admittedly, a pirate in a very tasteful plaid).
it's not an early Halloween costume. A few months ago, he rubbed an ulcer onto his eye, and at first we were afraid the eye would have to be removed. Super Vet Brian Wright gave me ointment and told me to put it in Pete's eye four times a day. Since he's at a boarding facility about seven miles away AND I was still at my day job then, that was quite a chore.
He didn't much like having the ointment put in, especially since the ulcerated eye was so painful, but within just a few days, thanks to clicker training and some really good treats, he was letting me put it in all by myself. That was a necessity, since at least three of the four times I went, there was nobody there but me.
Nonetheless, we prevailed and saved the eye–Huzzah!–and Pete is back to his old self. If you'd like to read more about Pete and his pasture mate, Loki, you can go here.